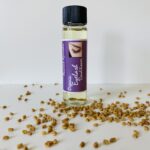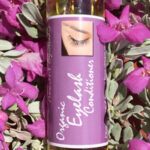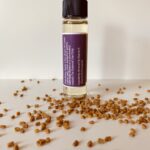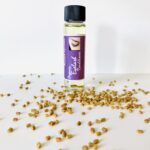 Organic Eyelash Growth & Conditioner
$18.00
Size
1oz – $18.00
Buy 1 Eyelash Growth Serum and get 2 Eyebrow Tinting Capsules for free (applicator provided) No promo code necessary, until 6/15
Use enriching oils to thicken and lengthen your eyelashes while repairing weak ones. With infused fenugreek, it promotes hair growth. Can also be massaged under the eyes as a moisturizer.
How to Use:
Put a few drops in the palm of your hands and use your index finger to apply it to both the top and bottom of the roots. A little goes a long way. If you get too much you can use it as an under-eye moisturizer. Vitamin E and almond oil creates a good hydrating touch to reduce puffiness and dark circles.
Ingredients & Benefits

Almond Oil
promotes moisture and hydration, Vitamins E & A, omegas 3 with fatty acids and magnesium, protects the skin from sun damage and free radicals, reduce acne, adds shine to hair

Vitamin E
anti-aging, moisturizing, reducing scarring and dry skin

Sesame Oil
rich in antioxidants & fatty acids, B-complex, magnesium, phosphate, calcium, and proteins that go deep in the root on the hair follicles, anti-inflammatory, protects the skin from toxins, promotes hair growth, brings shine to the hair
Fenugreek Seeds
used in treatments of hair thinning dandruff and baldness, promotes hair growth, stimulates blood flow, high proteins, and kills bacteria
Tips
Tip 1:
Hair growth starts from the roots so make sure the oil gets on the roots of the hairs.
Additional information
| | |
| --- | --- |
| Weight | 1 oz |
| Size | 4oz, 8oz |