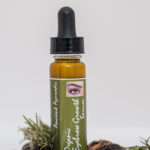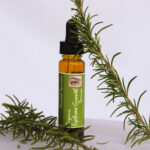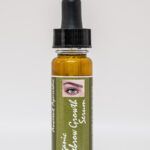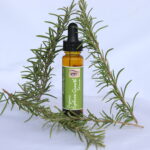 Organic Eyebrow Growth & Conditioner
$18.00
Made with natural ingredients to promote eyebrow thickness and hair count. This product is great for if you have thin eyebrows or have empty spots in your eyebrows.
Results will vary, but the improvement has been seen in 8 to 12 weeks if used daily.
How to Use:
Apply to the eyebrows once a day, typically before bed. Massage in to stimulate the follicles.
Ingredients & Benefits

Amla (Indian Gooseberry)
Promotes hair growth, improves texture, naturally conditions hair, prevents early graying and dandruff, contains vitamin C, prevents dry scalp, dandruff, and lice

Shikakai (Acacia Concinna)​
Blocks DHT to stimulate hair growth, cleaning agent, low pH to prevent dry hair, add shine, holds anti-fungal properties, adds shine, cleans the hair

Castor Oil
aids in hair growth, contains omega 6 & 9 fatty acids, proteins and minerals, and vitamin E

Olive Oil​
promotes hair health, improves blood circulation and thickens hair

Mustard Oil
increases blood circulation, contains fatty acids and omega 3, nourish the hair and encourage hair growth
Rosemary Leaves
aids in increasing blood circulation, nourishes hair follicles, improves cellular regeneration
Tips
Tip 1:
Using products at night before you get into bed is a good way to ensure penetration goes deep in the skin without interruption.
Tip 2:
When moving the scalp/skin with fingers, a hair brush, or another device, you are increasing blood flow to that area, which is good for hair follicles.